---
98.8% fine dust cleansing is a basic! Deep cleansing foam that washes away impurities on the pores 'to improve the appearance of blackheads.
Formulated with natural plant-derived oil!
Deep cleansing oil with a moisturizing finish that takes away
a day's collection of fine dust as well as heavy makeup
Natural plant derived oil
Formulated with mild natural oil to deeply cleanse away everything from fine dust to heavy makeup.
Formulated without 7 ingredients
Animal ingredients, mineral oil, imidazolidinyl urea, triethanolamine, silicone oil, synthetic pigment and sulfate surfactant
HET-CAM test complete
Mild enough for the delicate eye area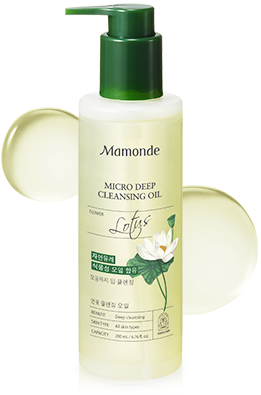 Benefits of Lotus Micro Deep Cleansing Oil
Increased oil content! Refreshing deep cleansing experience, with fine dust and impurities on the pores cleared by micro cleansing particles. Formulated with natural plant-derived oil Mild cleansing without causing stress to the skin
---